Cassava farming in Nigeria (what you should know)
The existence of cassava remained unknown to Subsaharan African until the sixteenth century.
Before the discovery of the Americas and the Old World, cassava crop and its origin remained unknown. However, its origins were traced to many parts of northeastern Brazil and in Mexico (Central America).
You are welcomed to Farmers Guide where you get practical and experienced ways in farming both in small quantity and commercial quantity.
Today, cassava farming is practised in tropical countries of the world, with the cassava crop as the second most grown starchy crop after sweet potato.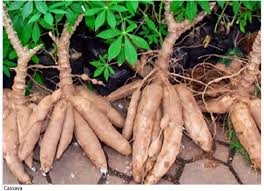 Nature of Cassava Farming
As hinted earlier, the cassava crop is now widely grown across the world, this is because it is grown easily, in large yields without infestation by crop disease known to plaque root crops in the tropics.
The cassava crop is mainly grown for its edible tubers, which, when processed into cassava flour or cassava flakes serve as a staple food in many tropical countries around the world. Also, cassava is the major source of starch-for industrial purposes.
Methods of Cassava Farming
There are three major methods of cassava farming:
Vertical method of cassava farming
horizontal method of cassava farming
Inclined method of cassava farming
1. Vertical method
This method of cassava farming is mostly used by farmers particularly during the rainy season, this is so done so that the cassava root stems will not rot if the rain goes unabated and the soil remains wet.
However, against conventional wisdom, under low rainfall conditions, applying the vertical method of cassava planting may result in the dehydration of the root stems, which will lead to crop death and low yield.
2. Horizontal method
The horizontal method of cassava farming involves burying the plant stems of about 5-10 centimetres underneath the soil surface. This method is mainly used in places with dry climates and when planting is carried out by machines.
This method is advantageous in that the cuttings that are planted horizontally tend to yield multiple stems and more root tubers, although their sizes are often smaller.
However, in rich soils especially loamy soil, the multiple stems and roots are a plus for the farmer as they yield higher proceeds.
3. Inclined method
In this method of cassava planting, the cassava stems are inclined at 45° into the soil, especially in semi-rainy climates, this inclined position leaves 2-3 centimetres if the nodes above the surface of the soil.
By inclining the cassava stem the tuberous roots provide leverage which makes it easier to pull during harvest than in the other planting methods.
How to Start Cassava Farming in Nigeria
1. Choose a suitable land
Cassava farming is a lucrative agric-business in Nigeria. This is because it is a useful crop that is widely cultivated for its many economic and industrial uses. Cassava farming in Nigeria involves many farming operations which are as follows;
2. Prepare the soil
Beyond choosing the right soil for cassava farming, there is equally the need to prepare the soil, to make it suitable for the planting. These can be achieved through the following ways:
By applying inorganic manure e.g, fertilizers.
By applying organic manure,e.g animal dungs.
By preparing ridges.
and lately, through the use of irrigation in areas where rainfall may seem inadequate.
3. Choose the right cassava stems for planting
The next step is to prepare the cassava roots for planting. Note it is not all soil types that are suitable for all varieties of cassava stems.
In preparing the cassava stems it is important to consider these critical factors before choosing a suitable cassava stem for planting. They include:
Cassava stems that yield quality tubers.
Cassava stems that yield within a short time.
Cassava stems that yields produce that lasts for long periods.
Cassava stems with yields that are resistant to crop pests and disease.
Stems that is suited for a particular soil.
Healthy stems that grow rapidly.
In all, the following species of cassava stems are ideal for cultivation, because of their rapid growth and higher yield. They include, but not limited to TMS 30572, TMS (2) 1425, TMS 92/0326 and many others.
4. Prepare the land for cultivation
Before planting, it is important to apply the right quantity of quicklime as well as herbicides that will help eliminate and reduce the growth of weeds around the intended area.
This should be done 8-10 days before preparing the soil.
Also, it is advised that farmers plant their stems on ridges, this is particularly important for large scale cassava farms that would require the use of machines for planting, that way it becomes cheaper and easier to quantify than the use of manual labour.
5. Plant during the planting season
Normally the planting season in Nigeria begins in April and ends in September/October every year.
Recommended planting method in Nigeria are 40 centimetres (width) and 40-60 centimetres (height)on single rows since it aids plant care. Also, applying fertilizers 8-10 weeks after planting the cassava stems, is ideal for higher yield.
Lastly, it is important to weed the grasses that grew with the crop as at when due, to enable the stems to grow well. Note that it is important to apply herbicides against the following crop pests; root rot disease, (causes cassava root decay), anthracnose and mosaic diseases.
6. Prepare for harvest
Just like every other crop, cassava has its harvest season too. The discolouration of the cassava leaves from green to yellow and falling off the cassava stems is one of the major signs that the crop is ripe for harvest.
Thus the first step here in the harvesting process is to cut off the stems and prepare them for sale or replanting purpose in the coming farming season.
One major benefit of cassava cultivation is that the fact that its stems are the ' seeds' used for planting as against the roots, as in the case of yam, maize, legumes, etc.
Processing harvested cassava roots
Cassava tubers when processed can yield the following:
1. Garri processing
Garri processing is arguably the most profitable part of the cassava business in Nigeria. This is because many Nigerian families consume garri daily. Garri processing involves, wringing the cassava pulp to semi-dry form, then sifting it on a hand-woven perforated sifter from its chaff, and then fry it to a crispy flour called garri under-regulated heat temperature.
2. Fufu production
Fufu production requires soaking peeled and washed cassava tubers in a container filled with water and allow it to ferment for a period of four days. Then the fermented tubers are then sifted using a sifter, and thereafter moulded into balls and cooked in hot boiling water.
This process is also used to produce cassava starch, amala, flour and cassava flakes, like abacha; a popular past time dish in eastern Nigeria.
Prepare Budget
The need for a budget for any project or business undertaking can never be overemphasized.
This is because it gives a clear picture of the overall costs required for the execution of the project early enough before the cassava farming people. It also
offers a glimpse into the projected yield and returns on investment (ROI).
Below is the start-up cost :
1 acre of land (rent) 60,000
Preparation of the land 40,000
Purchase of cassava stems (100 bundles) 30,000
Planting (manual labour) 10,000
Bags of fertilizer (10 bags)each 25,000
Fertilizers applied 6,000
Herbicides applied 8,000
Conclusion
In conclusion, cassava has become a major food in many parts of the world, has both health, economical and industrial benefits. This is the reason cassava production has increased over the past five decades.